Matthew Wallace Selected for "Top 25 Newsmakers"
Matthew Wallace

 of 

East Hartford

, CT has been honored with a recognition by ENR/Engineering News-Record in its selection of "Top 25 Newsmakers"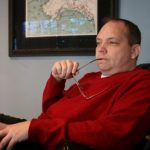 EAST HARTFORD, Conn., March 27, 2012 /PRNewswire-USNewswire/ — Announcing a special recognition appearing in the January 2012 issue of ENR/Engineering News-Record published by McGraw-Hill, Inc., Matthew Wallace was selected for the following honor: "Top 25 Newsmakers"
Matthew Wallace commented on the recognition: "This is quite an honor for me. The fact that ENR/Engineering News-Record included me in its selection of 'Top 25 Newsmakers,' signals that my constant effort to deliver excellent work has paid off. It is gratifying to be recognized in this way."
About Matthew Wallace:
VRSim, a technology company in Hartford, CT, creates virtual reality training systems designed to enhance basic skills training for education and research groups, industrial trades, and military and defense organizations. Using technology from the gaming industry, coupled with tracking systems and graphics rendering, VRSim produces training systems that are easy to use, fully-immersive, and provide a realistic learning environment. VRSim is the power behind training systems including SimSpray™, SimWelder™, and Lincoln Electric Company's VRTEX™ 360 Virtual Reality Arc Welding Trainer.
Following the publication of Matthew Wallace's selection for ENR/Engineering News-Record's Top 25 Newsmakers list, American Registry seconded the honor and added Matthew Wallace to the "Registry of Business Excellence™." An exclusive recognition plaque, shown here, has been designed to commemorate this honor.
For more information on Matthew Wallace, located in East Hartford, CT please call 860-893-0080, or visit www.vrsim.net.
This press release was written by American Registry, LLC with contributions from Matthew Wallace on behalf of Matthew Wallace and was distributed by PR Newswire, a subsidiary of UBM plc.
American Registry, LLC is an independent company that serves businesses and professionals such as Matthew Wallace who have been recognized for excellence. American Registry offers news releases, plaques and The Registry™, an online listing of over 2 million significant business and professional recognitions. Search The Registry™ at http://www.americanregistry.com.