VRSim Hosts Successful Open House and Launches Cutting-Edge VRNA EMS Training Product
VRSim Hosts Successful Open House and Launches Cutting-Edge VRNA EMS Training Product
VRSim Unveils VRNA EMS, Immersive Training for Emergency Medical Professionals and First Responders
[East Hartford, CT] – November 7, 2023 – VRSim, Inc., a leading innovator and provider of virtual reality training solutions, announced its newest product, VRNA EMS, at an Open House event on November 3rd. VRNA EMS uses VR technology to provide immersive training for Emergency Medical Professionals and First Responders. The Open House featured VRSim staff demonstrating VRNA EMS' ability to provide hands-on learning experiences focused on critical life-saving skills required in the field.
The Open House, held at VRSim headquarters in East Hartford, CT, attracted a diverse audience of industry professionals, government representatives, and local community members. Attendees experienced VRSim's renowned immersive training technology, including SimSpray, VRTEX, VRNA CNA, and the newly announced VRNA EMS.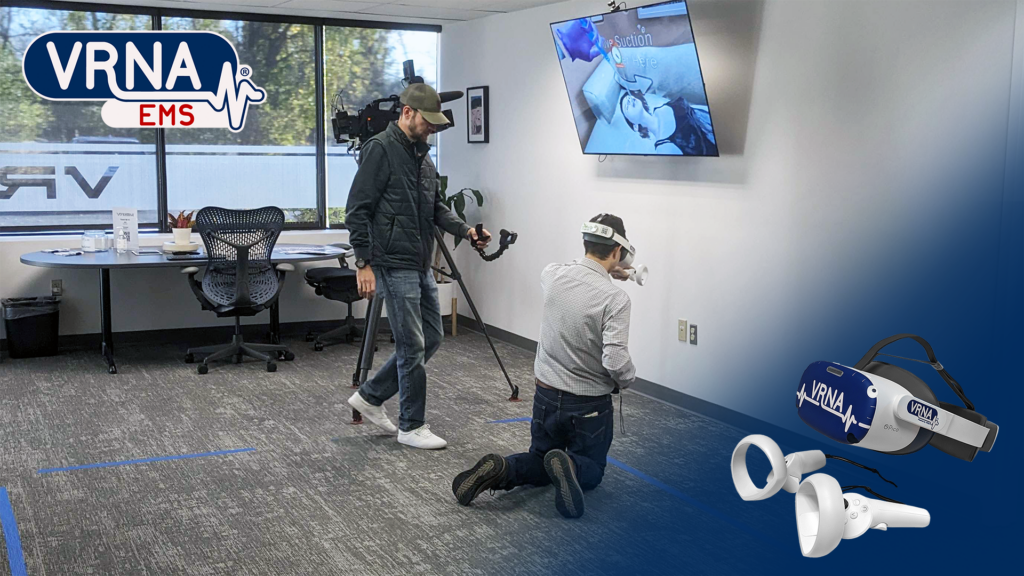 With VRNA EMS, trainees engage in realistic scenarios, practice critical decision-making, and enhance their skills through hands-on activities in safe, controlled environments. The immersive tool covers testable skills that align with the National Registry and are required by state and national certifications.
VRNA EMS' key features and benefits include:
Realistic EMS Scenarios: Learning content uses a library of scenarios based on real-life situations ranging from trauma incidents to medical emergencies.
Immersive Training: Trainees use physical actions to treat virtual patients, use equipment, and interact with environments as they practice.
Performance Feedback: In-depth performance metrics help trainers assess and improve trainee proficiency.
Cost Efficient: VRNA is a cost-effective way for more students to access hands-on learning experiences at lower costs than traditional mannequins and materials.
Accessibility: VRNA supplements lab and field training with easy-to-use, hands-on skills experiences that can be used in class, home, or practical lab settings.
For more information about VRNA EMS, please visit https://vrna.net.