VR spray paint simulator, Broadleaf starts handling… Support human resource development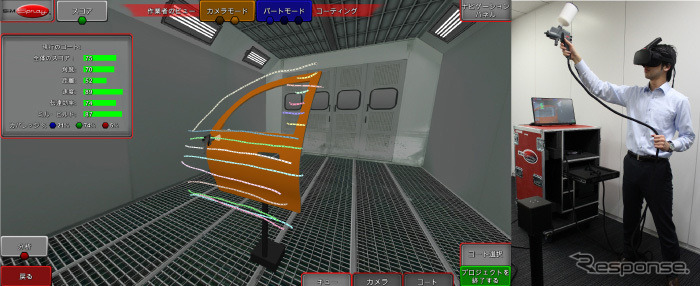 05.09.2018
Broadleaf will conclude agency agreement with VRSim in the US and will begin handling VR spray paint simulator "SimSpray" provided by the company on May 9th.
Although car body maintenance operators frequently carry out training and training in order to maintain and improve the level of technology, there is a lack of educational know-how for experienced workers to pass on skills and skills to less experienced workers, Time constraints are the subject of human resource development.
SimSpray reproduces the painting space where you can select the environment and parts by attaching the head mounted display. Realize real training with the attached spray gun. It is important to understand the "distance between the spray gun and the object to be painted", "the speed of moving the spray gun", and "spray angle with the painted surface", important for painting skills. Color unevenness of paint, dripping etc. are visually expressed, and objective feedback supports early technology acquisition.
At Broadleaf, we propose "SimSpray", a realistic VR spray paint simulation that realizes skill training for spray painting, and will support human resource development in the body maintenance industry.
This article has been translated from the original Japanese via Google Translate.