IA Governor Kim Reynolds Impressed by All-New CNA VR Training Solution
IA Governor Kim Reynolds Impressed by All-New CNA VR Training Solution
VRSim is piloting a VR training solution for CNA students, which gathered the attention of Iowa's Governor Kim Reynolds at a recent public event.
Pella, Iowa. – November 9, 2021 – The Career Academy of Pella (CAP) in partnership with WorkSMART Connector hosted a public event to launch a high school registered apprenticeship in patient care. Students enrolled in healthcare education programs, participating employers, public supporters and Iowa's Governor Kim Reynolds attended the publicized event.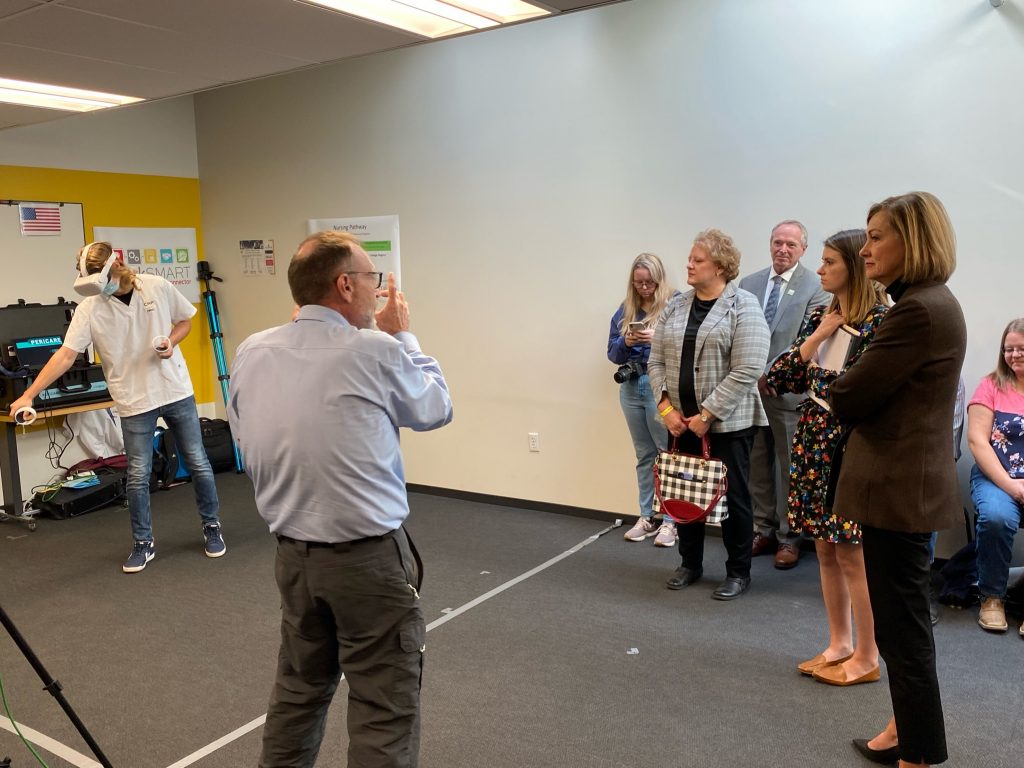 In addition to launching the apprenticeship, CAP showcased a first-of-its-kind virtual reality Certified Nursing Assistant (CNA) training solution. Powered by VRSim, Inc., PeriCare, as it is currently known, was introduced as a fully immersive VR training experience. Bridging theory and practice, PeriCare gives users the opportunity to learn patient care in a zero risk environment.
Grant-funded, CAP piloted PeriCare for CNA students to practice administering inconeinent care. The program utilized a premier all-in-one VR headset to complete the training. CAP CNA Instructor Kay Landon confirmed the VR solution has helped tremendously with skills repetition. It develops procedural competence in order to better prepare students for clinical training, where they will be expected to perform the same skills on real patients.
The live demonstration gathered the attention of many in the room, including Gov. Reynolds. "Talk about an inspiring and innovative experience," Reynolds later posted on Facebook, along with pictures from the event. Employers and government leaders posed questions regarding the technology, portability, and investment for this solution, spurring follow-up discussion about the release of a fully-scoped solution. "I am excited for the potential of this, about the energy today, and how it could better equip our students for on-the-job expectations," said Landon.
The addition of VR simulation as a training tool to robust curriculum standards drives motor memory and skills validation to align with a standardized and regulated curriculum. Notably, it creates more classroom opportunities by encouraging a new-found efficiency for classroom time, materials and cost.