Sixense Technology Adopted in VRSim's SimSpray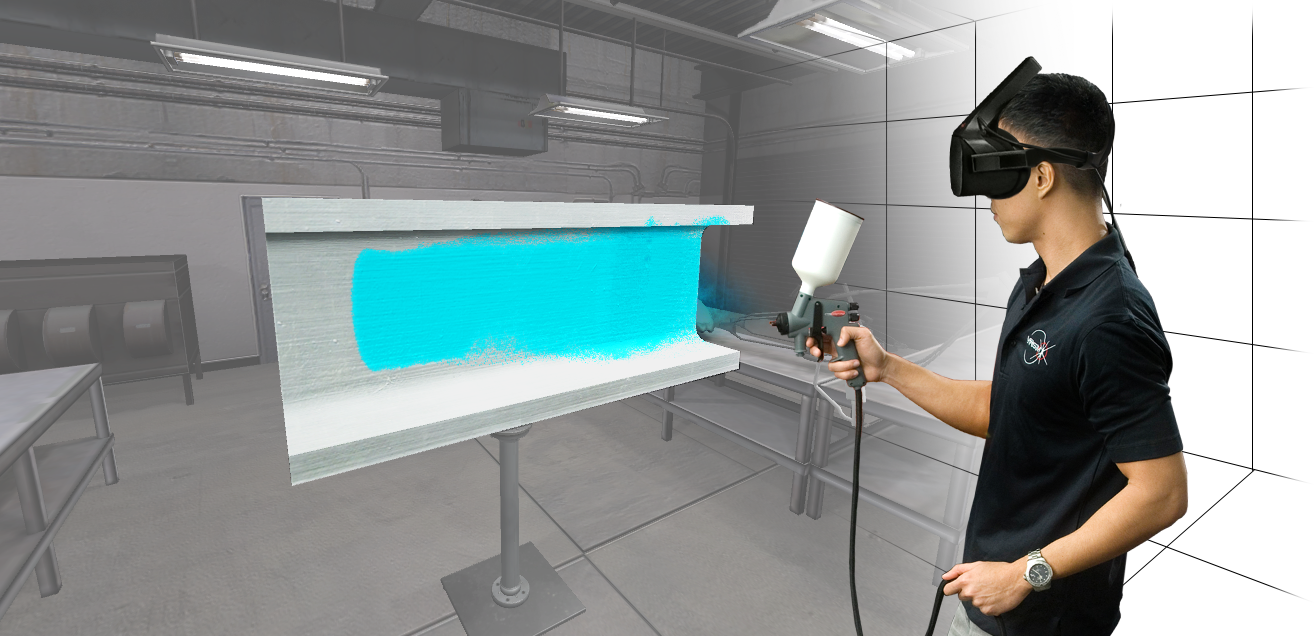 LOS GATOS, Calif., June 7, 2018 /PRNewswire/ — Sixense Enterprises Inc., a global leader in motion tracking and VR/AR software, and VRSim, Inc., an experienced developer of immersive training simulations, are announcing the successful adoption of Sixense's technology for SimSprayTM, an immersive virtual reality spray paint and coating training simulation. Using Sixense's Full-Presence Platform, VRSim is able to get precise motion-tracking data needed to simulate, evaluate, and improve skills training activities.
Studies show that training programs that use virtual reality tools see improved skill growth, increased completion of training activities, and higher rates of team communication and cooperation. VRSim data shows that the use of SimSpray reduces material costs by up to 50 percent and operating costs by up to 20 percent. Use of virtual reality technology minimizes waste and hazardous materials, naturally improving a training program's environmental impact. The collection of 3D tracking data allows for comprehensive evaluation of user performance, so that trainees can track improvement in their technique and pinpoint areas for development, providing a thorough foundation for skilled laborers before they begin working in high-risk environments.
"We need to provide training experiences that enable trainees to gain in-depth understanding of the knowledge and motion it takes to do a perfect paint job," said Matthew Wallace, CEO of VRSim. "Using the Sixense Full-Presence Platform, our software can create a learning dynamic where the trainee acquires skills from aggressive instantaneous feedback."
Virtual reality training and education tools like SimSpray provide substantial benefits for new and existing training programs, most notably improved skill development rates and training in safe, low-cost environments. SimSpray uses the Sixense Full Presence Platform's motion tracking technology in combination with a virtual reality head-mounted display to increase and improve performance analysis while also controlling exposure to job and training hazards. With visual cues, in-depth performance feedback, tutorials, customizable lessons and projects, and comprehensive evaluations of user movement and overall performance, SimSpray provides a thorough foundation for training and skill development.
"There is an extraordinary opportunity for VR to contribute to skilled industries in helping to bring new trainees up to speed quickly, at low risk," said Amir Rubin, CEO of Sixense. "VRSim is leading the way in industrial VR training applications and we are excited to partner with them to make the trainee experience as realistic as possible."
Sixense's Full-Presence Platform provides accurate motion-tracking data required to create realistic interactions between trainees and the virtual world for an immersive and effective learning experience. Sixense technology enables absolute position and orientation (6DOF) tracking for uninterrupted full-presence VR/AR experiences that are essential for enterprise training applications to speed learning, reduce training expense and minimize risk. Sixense technology builds responsive instincts in trainees by giving richer performance feedback in a safe training environment.
For more information on Sixense's VR technology for training applications visit: https://www.sixense.com/solutions/training/. For additional information on VRSim's SimSpray training system, visit: http://www.simspray.net/.
About Sixense:
Los Gatos, CA-based Sixense Enterprises Inc. is a leading provider of VR/AR enterprise solutions. The company's Full-Presence Platform enables immersive experiences that transform applications in healthcare, training, and entertainment. Sixense technology delivers a more natural and intuitive way to interact in the virtual world, creating a powerful competitive advantage. For more information, please visit: http://sixense.com.
About VRSim:
VRSim is an experienced developer of interactive training tools for the skilled trades. VRSim operates out of East Hartford, CT, reimagining industry tools for training and developing innovative training systems in welding, spray painting, construction, manufacturing, and robotics. Their products are used in training and education programs for high schools and technical colleges, vocational training programs, workforce development initiatives, and global leaders, including The Boeing Company, Caterpillar, the National Truck Equipment Association, Saint Gobain, the International Union of Painters and Allied Trades, and the U.S. Navy. For more information, please visit: https://vrsim.com
/.
Sixense Contact:
Lisette Rauwendaal
Lumina Communications
408-827-4363
sixense@luminapr.com
VRSim Contact:
Sara Blackstock
VRSim, Inc.
860-893-0080
sara.blackstock@vrsim.net
SOURCE Sixense Enterprises Inc.
Related Links
http://sixense.com