Virtual Reality Goes to School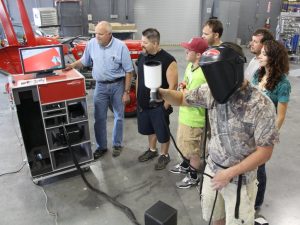 THE blistering pace of advances in automotive technology may be confusing to consumers, but it seems to be creating a strong employment outlook for those who fix cars.
According to a forecast by the Bureau of Labor Statistics, from 2010 to 2020 the work force will add positions for 124,800 service technicians and mechanics, 32,700 automotive body and glass repairers and 13,800 painting and coating workers. While that growth rate is not explosive, the Labor Department foresees steady employment for those with training and certification.
But the rapid-fire technology developments are also widening the skills gap. Basic mechanical know-how is no longer enough; new materials, assembly processes and electronic controls make repair work more challenging. As a result, training has become more demanding, even as schools face tighter budgets and shorter classroom hours.
How will they train new technicians under such pressures? Video game technology may provide part of the answer.
"Time is not our friend," said Ron Ussher, a collision-repair instructor at the Thomas A. Edison Career and Technical Academy at Elizabeth High School in Elizabeth, N.J., noting the pressure to teach more in fewer hours. "But with the simulator, time isn't an issue."
READ MORE: http://www.nytimes.com/2012/05/20/automobiles/virtual-reality-goes-to-school.html