Learning to paint, weld, drive in virtual reality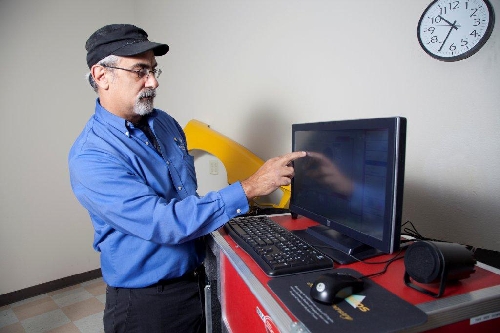 Las Vegas Review Journal | October 3, 2012 — It was the smell of fumes in the automotive building as students learned to paint vehicles each semester that prompted John Ventura, director of the College of Southern Nevada's Automotive Program, to search for a virtual solution.
With the assistance of federal Perkins funding and the Southern Nevada Franchised New Car and Truck Dealers Association, Ventura was able to purchase a state-of-the-art instructional tool that trains painters and coaters with no fumes. The technology, called SimSpray, allows students to paint in a virtual reality.
"I think it's going to save a lot of paint," automotive student Travis Fontanilla said. "It's a lot of fun."
SimSpray includes a virtual reality helmet and spray gun that hooks up to a portable computer, where the instructor can watch as students basically play a video game in which they seek to beautify virtual fuel tanks and fenders. It is one of several new virtual simulators at the college that are creating unique learning experiences that enhance students' experience.
READ MORE: https://www.reviewjournal.com/news/learning-to-paint-weld-drive-in-virtual-reality/