California Department of Corrections and Rehabilitation Uses SimWelder From SGI and VRSim for Vocational Training
SGI Professional Services Delivers 20 Energy-Saving Virtual-Reality Welding Training Systems to 20 California Prisons
SUNNYVALE, Calif., June 18, 2008 /PRNewswire-FirstCall/ — Seeking a more cost-effective, energy-conscious and safer way to train inmates in industrial skills, the California Department of Corrections and Rehabilitation (CDCR) purchased 20 SimWelder(TM) units from SGI and VRSim, an SGI(R) channel partner. Inmates throughout the state will learn a variety of specialized welding skills that will help them to secure jobs upon parole. SGI Professional Services delivered the 20 SimWelder units in January and instructor training has just been completed. The virtual-reality welding programs, with 27 students per class, will begin soon at 20 separate sites, ranging from high security prisons to Level 1 (minimum security) facilities.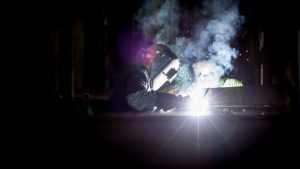 "There are many benefits to the SimWelder, but I think the main one is the cost-avoidance to the institutions of not having to purchase steel, wire for the wire feeds and the different types of welding rods," said Art Hernandez, Vice Principal, Vocations, Office of Correctional Education, CDCR. "There's also savings in electricity. Instead of the high electrical demands needed for regular welding machines, the SimWelder simply needs a 110-volt outlet. That's a huge cost savings that's exponential because we're running 20 units, at 20 different institutions."
Using SimWelder, students enter an interactive virtual environment that merges computer-generated data with physical props. By simulating welding, no gas is burned, no metal is consumed, and no waste is created. Additionally, students get more practice passes and instructors get better data. SimWelder augments traditional training methods by providing significantly more passes to students and giving instructors objective feedback, safely preparing students to work with real materials.
VRSim personnel trained CDCR's traditional welding instructors, giving direction and detailed instructions on how to assemble the machines, load the software, and run the calibrations.
"At the end of the training, I'd say at least 95 percent of the instructors were very positive," said Hernandez. "They are really excited about using these machines in the classroom, especially being able to teach muscle memory on carrying a bead and working with aluminum and light steel. An added plus is the SimWelders teach both Shielded Metal Arc Welding and Gas Metal Arc Welding. Instructors are also looking forward to the Pipefitter-Welder training software that will be available from VRSim next year, because pipefitting is a viable job market and a niche, high paying job skill for parolees to have."
"Based on what I've learned, the SimWelder accelerates the training curve," said James Bruce, Vocational Vice-Principal, CDCR. "We're anxious to find out what kind of reduction we'll have in training time. We would like to send inmates back to the community prepared for parole, prepared to secure a job and prepared to become productive members of our society."
Bruce expects the SGI-VRSim SimWelder will ultimately result in more students certified in the various American Welding Society certifications prior to their parole. A steel workers union in the Bay area and a major shipyard in San Diego have expressed an interest in hiring welding graduates as well as some of the other vocational trades the CDCR teaches.
"We are pleased with the reception SimWelder has received at CDCR," said Matthew Wallace, CEO and President of VRSim. "I am confident that the enthusiasm for virtual training shown by the instructors will ensure a substantial gain in basic welding skills for the inmates. We continue to see significant rapid skills development through the use of SimWelder."
With SimWelder, real-time visual cues lead students to better kinesthetic awareness. SimWelder is customizable to enterprise specific parameters such as travel angle, speed, stickout, and weave pattern. The training system provides objective feedback: Each weld pass creates a detailed student report based on empirical data. The SimWelder system currently operates in both Spanish and English, with additional languages planned for the future.
"The California Department of Corrections and Rehabilitation is empowering inmates to take control of their lives by equipping them with state-of-the-art training in vital industrial skills," said Bob Pette, vice president of SGI Professional Services. "While we have been pleased with the adoption of SimWelder technology across such diverse industries as the military, technical colleges, and manufacturers, we are now even more excited to see these significant environmental, safety and cost-reduction benefits adopted at the state level to benefit the citizens and taxpayers of California."
SGI – Innovation for Results(TM)
SGI is a leader in high-performance computing. SGI delivers a complete range of high-performance server, visualization and storage solutions along with industry-leading professional services and support that enable its customers to overcome the challenges of complex data-intensive workflows and accelerate breakthrough discoveries, innovation and information transformation. SGI helps customers solve significant challenges whether it's enhancing the quality of life through drug research, designing and manufacturing safer and more efficient cars and airplanes, studying global climate change, providing technologies for homeland security and defense, or helping enterprises manage large data. With offices worldwide, the company is headquartered in Sunnyvale, Calif., and can be found on the Web at sgi.com.
MEDIA CONTACT Marla Robinson marlar@sgi.com 256.773.2371 SGI PR HOTLINE 650.933.7777 SGI PR FACSIMILE 650.933.0714
CONTACT: Marla Robinson of SGI, +1-256-773-2371, marlar@sgi.com, or SGI PR Hotline, +1-650-933-7777, SGI PR Facsimile, +1-650-933-0714
Web site: http://www.sgi.com/